I've been feeling like a full-fledged homemaker and a legitimate mother the past five days. Cooking has something to do with it. I've been trying out recipes from cookbooks and food networks. I've been digging my brain for some stored memories of my mother chopping vegetables at 9:00 p.m. so she can make meatballs and spring rolls from them, a surefire way of making us, her four children, eat our then dreaded greens, yellows, and oranges.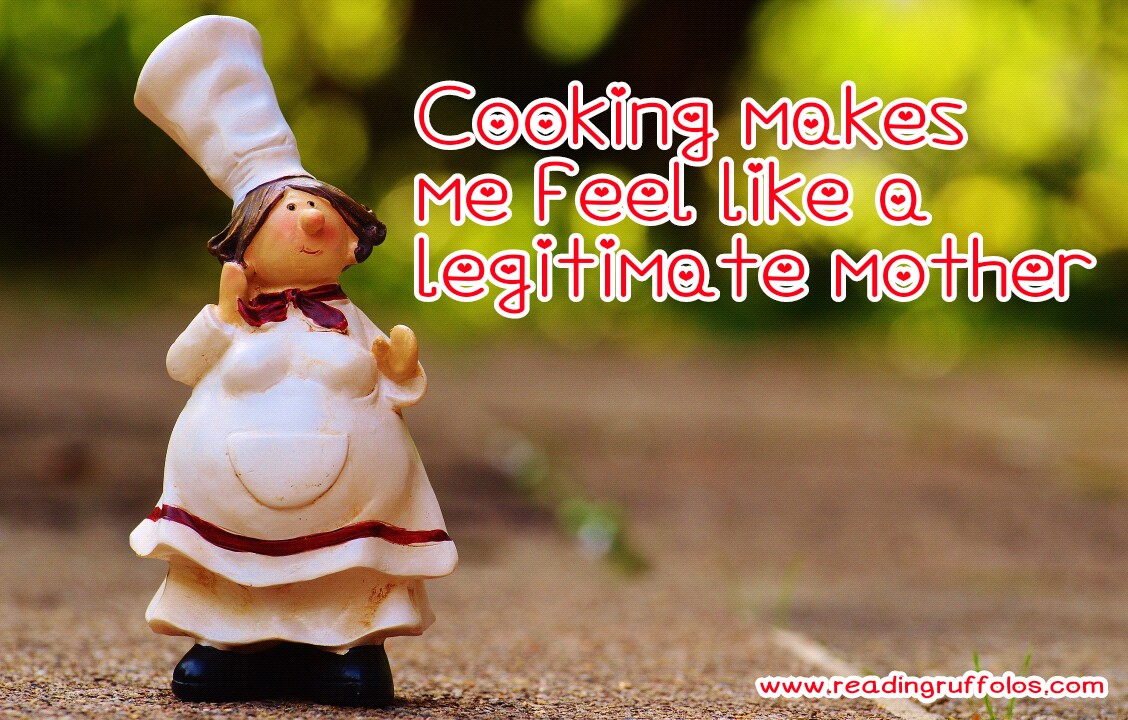 Jeff is the executive chef in our home. It's usually him who cooks dinner. But the past five days I've been picking up my cooking chops – a skill I first learned from my father – because I wanted my children to eat vegetables. That's when I realized that I am, oh yes I am, beginning to be like my mother in the sense that I've been worrying so much about how my children's diet will affect their physical, emotional, and mental growth. So while I'm on the final stretch of completing my academic requirements this semester, I made it a point to cook at least once a day.
I have since cooked bacon/tomato frittata, coconut Thai chicken, tuna patties, and pork afritada. I baked fudgy brownies using chocolates my children got from their trunk or treat participation.
I discussed with Jeff ways on how we can sneak in vegetables in our twins' diet. He tried covering broccoli with some egg noodles and fed it to Antoinette. Antoinette took the bait. However, our girl is smart and soon discovered Daddy's trick. Nicholas also professed his dislike for spinach by telling me that he doesn't want Popeye's food over dinner. "Don't like it Mom," he said.
I panicked.
In the Philippines, we eat a soup dish called utan bisaya. Think squash, moringa leaves (called kamunggay), okra, string beans, eggplant, and fried fish boiled in water and seasoned with salt. There are other variations to this but this one is a staple food that I grew up with. Mom used to say that the dish will make us perform better in school. As a child, I didn't like it. Hotdogs and corned beef tickled my tastebuds more. But Mom is a persistent human being. By persistent, I mean scary. Consider yourself dead when you refuse to eat utan bisaya.
When we got older and meaner, Mom became more creative. She sliced and chopped vegetables such as carrots, squash, and beans, sautéed them with garlic and onions and maybe a little ground pork, roll them in lumpia wrapper, and then deep fry them. The result: vegetable spring rolls. She made sure there was banana ketchup available because vegetable spring rolls are so good with banana ketchup.
Yesterday, I had my husband buy vegetables and lumpia wrapper to recreate Mom's vegetable spring rolls. He came home with all the vegetables I told him to buy. There were no lumpia wrappers do. "I'll check the Filipino store tomorrow if they have any," he said.
So… like my Mom, I improvised. Since I couldn't make vegetable spring rolls,  I decided to make vegetable meatballs. (Technically, there was no meat in the dish so should be called vegetable balls or veggie balls but they don't sound right… forgive me.)
I started peeling, chopping, and slicing at 9:00 p.m. after the twins' bedtime ritual. I was doing everything by hand. I used spinach, carrots, potatoes, beans, shallots/onions, garlic, eggs, bread crumbs, flour, pepper, and salt. Don't ask me the specific measurements, I was never a fan of measuring ingredients when cooking; I do measure ingredients though when baking.
It took me almost two hours to chop everything. I sautéed the veggies and then started rolling them into small balls. The next step was to deep fry them. Jeff was my taster. He recommended sprinkling something spicy on the meatballs to add some kick. I recommended Mrs. Dash extra spicy seasoning.
I made close to 80 veggie meatballs, ladies and gentlemen. I bagged them and placed two bags in the freezer and the other two in the fridge.
Tomorrow, we will see if the twins will find these veggie meatballs appetizing. They liked the tuna patties and the frittata which had tomatoes and cabbage; hopefully, they'll like these too.
I washed all the dirty dishes, pots, and pans. It was already 1:00 a.m., time to pump milk. My breasts were screaming in agony.
At 1:30 a.m., the baby woke up. I fed him, changed his diaper, and played with him. I told myself I'll fold the clean clothes then take a shower after baby falls asleep.
It's 2:27 a.m. now and baby is not yet asleep.
I'm seated on a couch with the clean clothes that needs to be folded to my right.
I badly need a shower.
I'm thinking of baking apple pie tomorrow.
I feel like I'm a legitimate mother.
This entry was written on November 18, 2015