Antoinette was flipping through her copy of The Alphabet Book by P.D. Eastman when a woman approached us and asked me if I don't mind her taking a photo of my daughter. This happened at the Ninoy Aquino International Airport in Terminal 3 in Manila, Philippines.
I am no stranger to people taking photos of my children especially when the twins are together, especially when they learn that the two non-identical, heaven-sent creatures are actually twins. But having someone ask permission to take a photo of Antoinette was a new experience.
I stopped reading the book in my hands ("The Fault in our Stars", the subject of a Book Share session hosted by The Reading Ruffolos, which I will share in a separate post) and asked her: "Why?"
She introduced herself as Flordeliza, a teacher from a private school in Manila. She lamented  about the "state of her classroom" which is composed of children from rich families, most of them with tablets and high-tech gadgets; most of them with very short attention span; most of them with parents who allow their children unlimited play time with their new-age toys.
"I worry about them. They don't physically play during break times. Nobody is playing hide and seek or running. You can't barely hear footsteps. They just play with their tabs, iphones or android phones. Children as young as one year old are handed cellphones by their parents to pacify them and they learn to use the gadget at an early age," she said.
Then she asked me if I always bring books when we travel.
I said yes; that my children (told her we have twins and another one coming by September) have been travelling since they were seven months old and that in every trip, we make sure to bring books with us.
"Why? Where did you get the inspiration?" were her questions.
I told her about my involvement with reading initiatives.
It was there that I saw how reading is a habit that starts at home. Teachers can only do so much in encouraging children to read. The responsibility to develop and establish a reading culture should not just rely on them (teachers); a very important contribution and responsibility lies in the hands of the parents.
Whatever positive practices that happen in the school should be reinforced at home and vice versa. That's the reason why, I think, we have parent-teachers conference, so both players can work together to bring out the best in each child.
When we travel, we make sure to bring small board books.
After I discovered the wealth of books I can purchase online via Amazon China, I found and immediately bought a small gift set of Eric Carle's books (Rooster's Off to See the World, A House for Hermit Crab, Papa Please Get the Moon for Me, and Pancakes, Pancakes).
They had been the twins' companions when we travelled from Hong Kong to Cebu last year. The books are colorful with very simple words that I can read aloud to them. They can mimic the sound of the animals while waiting for our flight. We can act out how to eat pancakes while having our lunch. I also started introducing them to colors using the books.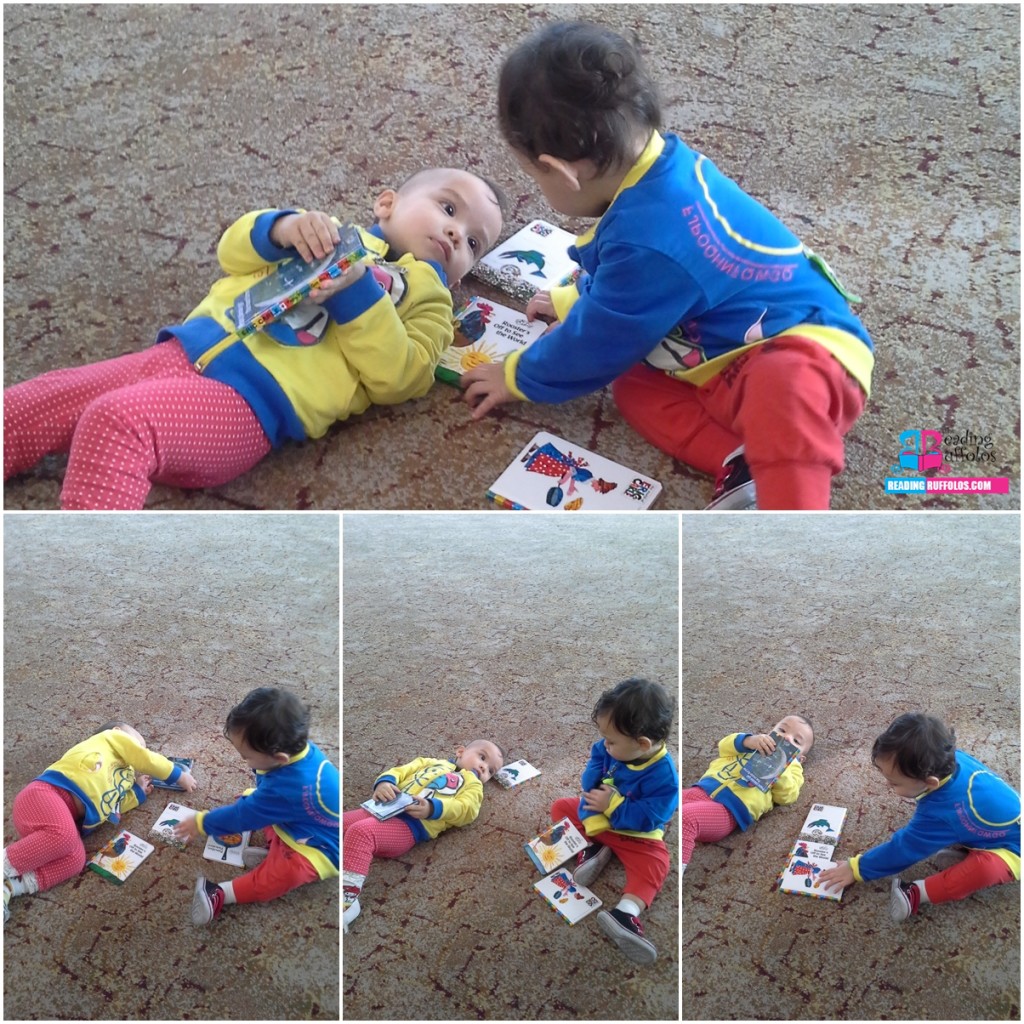 I also found books in a Chinese supermarket that had English and Mandarin Chinese characters. For a time, Antoinette couldn't get enough of them and even slept with them. I brought one copy with us when we flew from Guangzhou to Los Angeles. Nicholas, who was comfortable in his business class seat beside his Dad, "read" the newspaper provided by the flight attendant.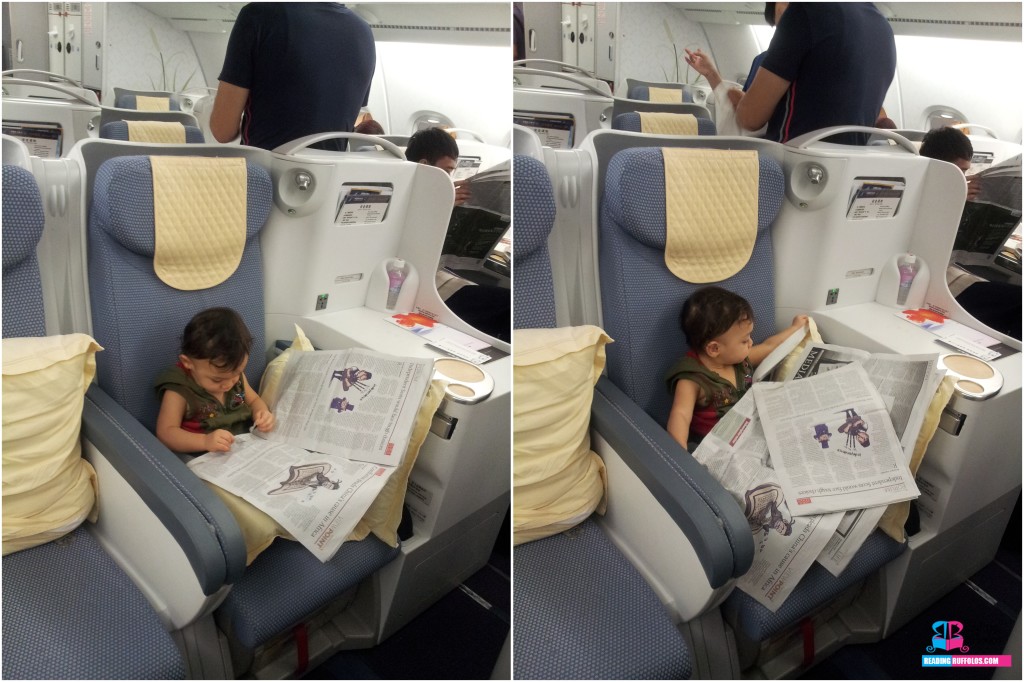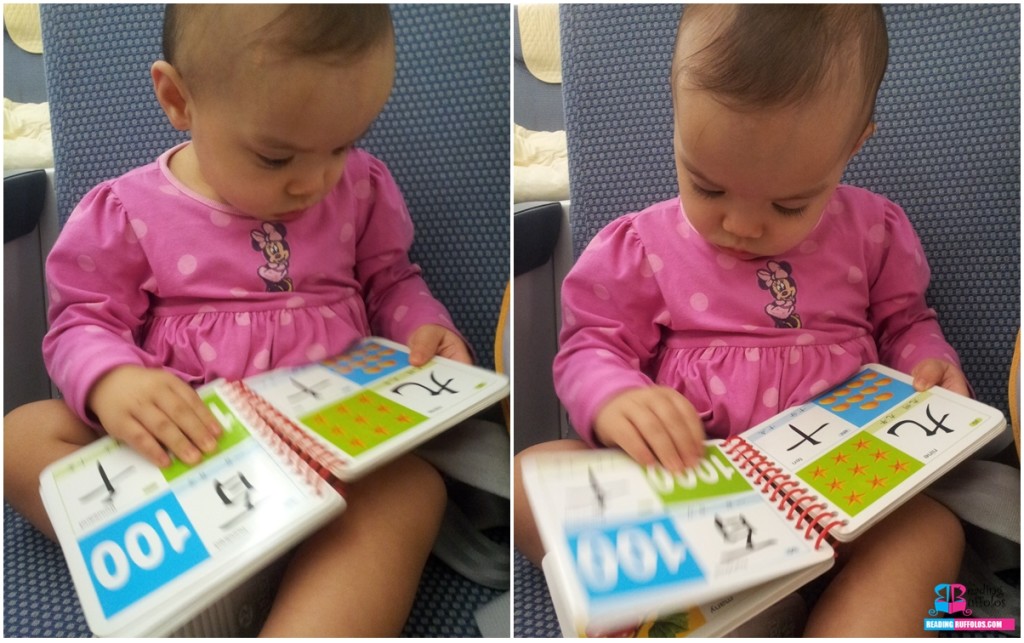 In our recent trip from Guangzhou to Manila and then Manila to Cebu, P.D. Eastman's The Alphabet Book was Antoinette's friend. She has now developed the habit of pointing at a picture and asks me the name of that particular object. She knows what an elephant is, she calls fish "isda" (Filipino word for fish) and calls banana "anana". Some of these words she learned while on a five-hour layover.
It was not hard to make them like books as travel buddies because we have surrounded them with books since birth. Now 20 months old, the twins open books like they can really read them.
I said goodbye to my newfound friend,  Flor, when a Cebu Pacific staff approached me with a wheelchair (yes, I'm on a wheelchair when I travel while pregnant) and helped me with Toni and my bag.
She said she would share my story in a PTCA meeting and hopes parents will gain inspiration from our example.
Here is Toni's picture taken by Flor.