Here's a romantic-mystery novel on second chances and forgiveness that takes you to the beautiful state of Maine.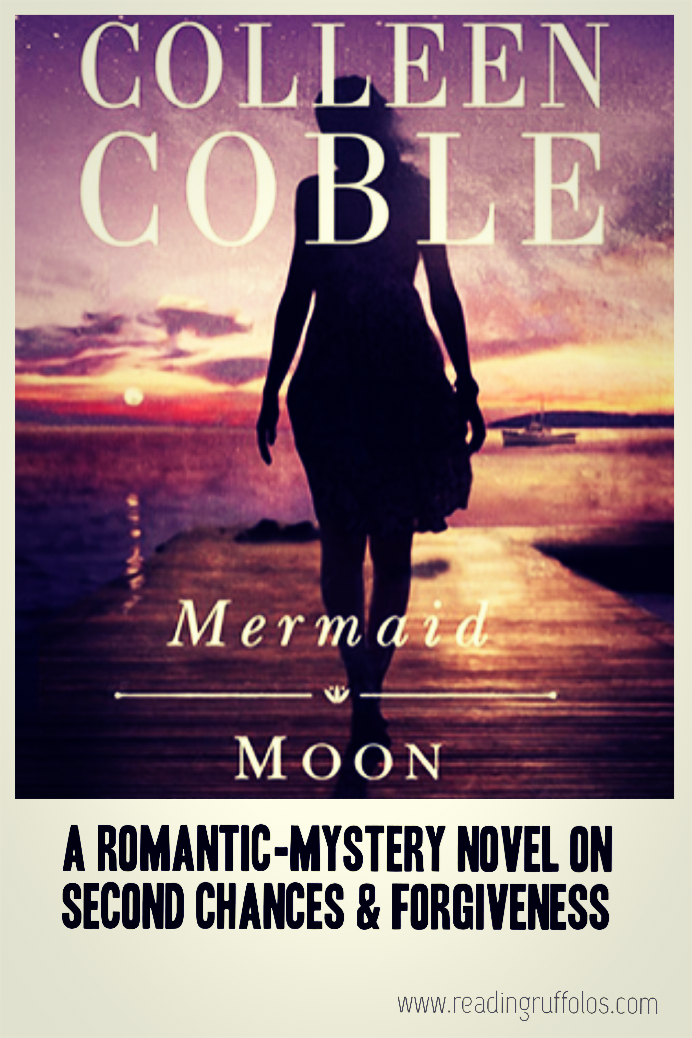 Mallory Davis left  Mermaid Point to escape the painful events of her life. She left home lost with a broken heart. She refused to stay in contact with the people from her past until one day a call from her father told her that she needs to go home immediately. She believed her father was murdered and that strong feeling convinced her to stay and dig deeper about what really happened. Her decision brought her answers not only about her father's death but also on finding and forgiving herself and coming to terms with the feelings she still has for the man she was supposed to marry when she was 20.

Colleen Coble wrote Mermaid Moon, a romantic-mystery novel with classic twists and turns enough to keep you up all night to finish reading this 300-page story. Her storytelling makes her work a good weekend read. However, her writing tend to be dragging in the middle when the suspense was all about putting the puzzle pieces together and finding who's who in the story. Some characters were predictable and there wasn't an element of surprise on my part when the full story unfolded. Somehow, I know where the story was going before I even reached the page 100.
I blame my obsession to crime stories and television shows for solving the mystery before I finished the book. Watching more than two episodes of CSI in the last two months has that effect, I guess.
This is not to say that Coble was unsuccessful in delivering her message. She did and the lessons she imparted were my favorite parts of the novel. Second chances was the overarching theme in this novel and Coble delivered it with characters she breathe life into in this story. Mermaid Moon also teaches readers about forgiving one's self and that a wrong cannot be corrected with another wrong.
On first read, I found that some characters aren't supposed to be there because their stories have loopholes and I felt that adding them to the entire mix is forced. But I learned that this is Book 2 of the Sunset Cove series and the characters I thought were misplaced are actually stars from Book 1 (The Inn at the Ocean's Edge). I made a mental note to get a copy of The Inn at Ocean's Edge. It's main character Claire Dellamar appeared in Book 2. In Mermaid Moon, Coble introduced forensic artist Gwen Marcey whose findings were pivotal in leading Mallory to her answers. Gwen Marcey stars in another book series by Carrie Stuart Parks. I love it when everything's connected.
More than anything, I love that Coble wrote this story with Maine as its setting. I've never been there but the words she used in describing the sea glass, the sand, moon, the houses, wildlife and even the water taxis are enough to give me a picture of a pristine place worthy of a visit. I could not imagine not going there at least once in my life. So… yes, another mental note: visit Maine.
As a Christian writer, Coble wrote this novel conscious of the values she will impart to young readers as well. This is the kind of novel that I would have my future 14-year-old read. It does not glorify or justify the sexual act or the pregnancy that follows after sex before marriage. Instead, it focuses on the beauty of true love and how it can withstand any trials and challenges.
I also like the secondary themes Coble highlighted in this novel: loving persons with disabilities and educating people about rabies. You'll find more about these themes when you read the novel. You'll see (read) more sub-themes as you go along with your reading.
The book has a set of discussion questions found towards the end of the book. They're perfect for book talks and literature circles.
While it is Book 2 of a series, Mermaid Moon can work as a stand-alone book. Just remind yourself – constantly – that there's a Book 1 before this one.
Mermaid Moon is a novel that teaches the values of second chances, that true love waits, and that it may be late to say sorry but it's never too late to forgive. Skip 50 Shades of Grey. I recommend this book for an easy, light, and inspiring Friday night read.
***
Disclosure  of Material Connection: I received a copy of this book from Litfuse Publicity Group as part of the book's campaign. I was not required to write positive reviews. Some of the links in the post above are "affiliate links." This means if you click on the link and purchase the item, I will receive an affiliate commission. Regardless, I only recommend products or services I use personally and believe will add value to my readers. I am disclosing this in accordance with the Federal Trade Commission's 16 CFR, Part 255: "Guides Concerning the Use of Endorsements and Testimonials in Advertising